My Journey from a Liberal Arts College to Aerospace Engineering
Part of CSM's Science-in-Action Speaker Series
Wed Sep 11, 2019
5:30 pm - 6:30 pm
Speaker
Charlotte Kiang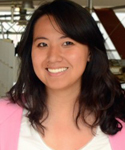 Charlotte Kiang is a space systems engineer and management consultant specializing in human spaceflight. Most recently, she has been a member of the Mission Management team at SpaceX, where she led cargo integration and customer certification activities for the first crewed flight of the Dragon 2 spacecraft. Prior to joining SpaceX, she worked as a software engineer at Boeing and interned at NASA's Johnson Space Center.
She holds a bachelor's degree in mathematics from Wellesley College, a master's degree in bioengineering from Cornell University, and a certificate in Space Studies from the International Space University.
She is passionate about inspiring the next generation of scientists and engineers through educational outreach and frequently volunteers as a speaker and mentor for students considering STEM-related careers.
Cost:
Free
Categories: