DIY Green: Build on Earth Day, make our earth greener
CSM Library Makerspace Event
Thu May 03, 2018
12:00 pm - 3:00 pm
Make, Take, and Grow!
Almost all life on earth depends on air and water. Join our DIY Makerspace event and pot your own "Spider plant" and/or "Air plant" and learn how these plants are beneficial to humans.
Learn how to care for these plants which you will take home with you. Have fun, release stress, and nurture your "Green thumb".
Pot a "Spider Plant" (Chlorophytum comosum)
We'll provide the pots, plants, care sheets, and soil. Learn how Spider Plants can clean your air by filtering out chemical pollutants (e.g., formaldehyde, benzene)


Craft an "Air Plant" wine cork planter (Tillandsia)
We'll provide the corks, magnets, air plants, care sheets, and glue guns. L

earn how "Air Plants" have been used as an indicator species to detect poor air quality.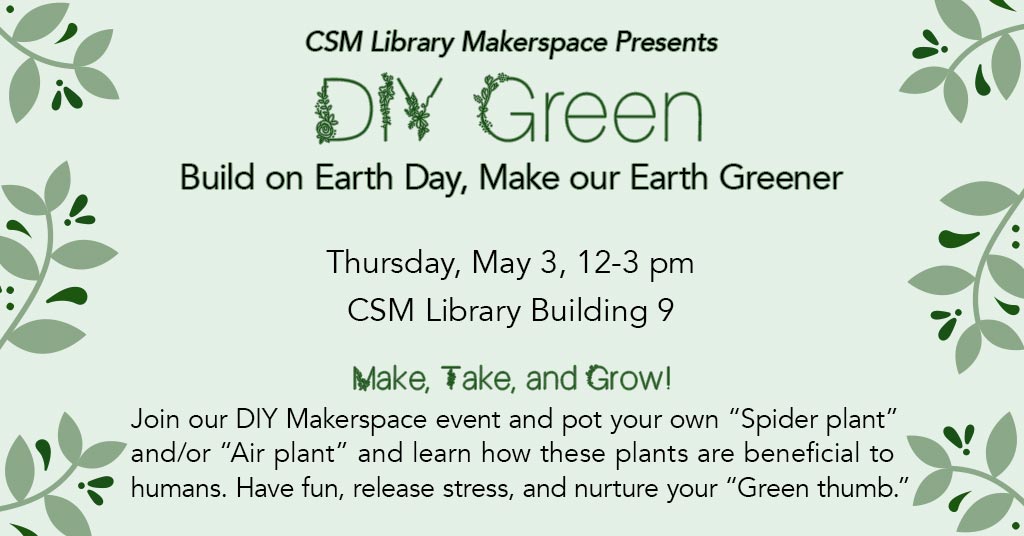 Categories: