2018 Commencement Ceremony
96th Annual Commencement Ceremony
Fri May 25, 2018
5:30 pm - 8:00 pm
Can't attend in person? Be sure to check out our Commencement Livestream at 5:30 pm!
Graduation DVD's will be made available to purchase through BAOSN!
Commencement is a significant and memorable event that symbolizes a student's scholastic accomplishment. It is a time when the faculty, attired in academic dress, pays tribute to the graduating class, and is also an occasion that is very meaningful to family and friends. 

College of San Mateo proudly presents the 96th Commencement ceremony for Summer and Fall 2017 and Spring 2018 graduates. This year's speaker will be CSM Alumni and Executive Director of the Straubel Foundation Boryana Straubel.
Commencement registration will be held in the Bookstore from April 23 - May 22.
You can share your graduation comments and photos on Facebook, Twitter and Instagram using #grad2018csm.
Grad Rehersal:
9:30-11:30 am in the Large Gymnasium
(Gymnasium Building 8) 
For graduates only
Grad Assembly:
4:30 pm in Theatre Building 3 
For graduates only

Ceremony:
5:30 pm in the Large Gymnasium

Reception:
Immediately following in College Center Building 10
No event ticket or parking permit required.
For more information, please visit collegeofsanmateo.edu/commencement.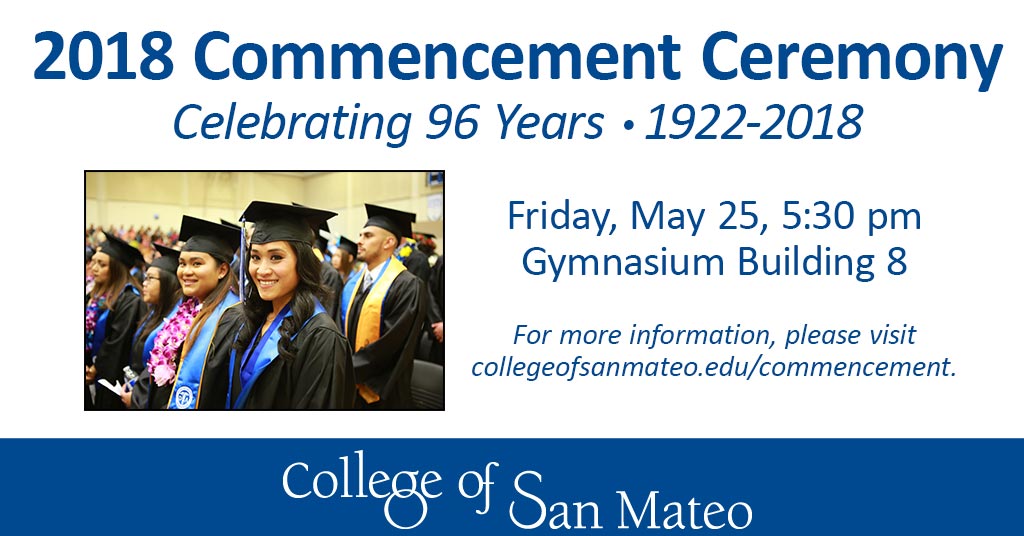 Categories: