Women in Computing
Mon May 07, 2018
4:00 pm - 5:30 pm
College of San Mateo is pleased to announce a special event about women in computing. This event will feature guest speakers who work in computer-related jobs (programming, software development management, design, etc.) and in academics.
The event is intended for high school, middle school, and college students, their parents/guardians, their teachers, and the general public. This will be a very inspirational event for people who may be considering careers in a computing field.
Please RSVP online.
Guest speakers include:
Susan Lee Neth
Susan Lee Neth is a software engineer working at Twitter. Before joining Twitter Susan worked for several companies that focused on retail web commerce, video gaming in the cloud, travel commerce and online stock brokerage. She was part of the early engineering team at Amazon's A9.com in Palo Alto, CA. Susan graduated from Wellesley College with a double major in Economics and Cognitive Science. She studied Computer Science at UC Berkeley before entering into the software industry as an engineer. Susan is an active participant in Twitter Women, @womeng (women engineers at Twitter), Twitter for Good, and Twitter University Recruiting. You can find her as @soozinbird on Twitter.
Anita Pagin
Anita Pagin is a technical recruiter at Meta, with a focus on recruiting software talent. She is also responsible for placing talent on the hardware, marketing, sales, customer success, HR, and finance teams! Recently, Anita has partnered with Meta's C-Level executives and hiring managers to scale the team as Meta gears up to support future product goals by ways of a robust Internship Program and an Diversity and Inclusion initiative. Anita has recruited for companies such as Minted, Salesforce, Machine Zone, Ellie Mae, Teradata, MLB, Polaris, and more! She is a graduate of San Jose State University.
Grace Lu
Grace Lu is a software engineer at CodeHS. Originally from Boston, MA, Grace studied computer science at Washington University in St. Louis and is now based in San Francisco. While in college, Grace served as the webmaster for the college radio station and worked part-time/fixed computers. She interned at CodeHS during the summer after her junior year and eventually became a full-time software engineer there. Grace also worked as a web development instructor at one of iDTech's summer programming camps, where she taught HTML/CSS, PHP, and Javascript.
At CodeHS, Grace spends most of her time working on a variety of features of the site, including teacher tools like one where teachers can create their own custom computer science questions and share them amongst other CodeHS teachers. And, even though her favorite programming language is Python, and at CodeHS she primarily work with Django and Javascript.
Melissa Green
Melissa Green is a computer science professor at College of San Mateo.
Melissa's areas of expertise include:
Object-oriented program design, web and mobile development
Programming languages/technologies: Java, JavaScript, Ajax, Android, iOS/Swift programming
Curriculum design and development
Pamela Price
Pamela Price is a computer science instructor at College of San Mateo. She has more than 15 years of experience in higher education as a professor, department chair, assistant dean, and director of instructional computer labs. Her education includes a Bachelor's Degree in Electrical Engineering, cum laude, from Rice University, and a Master's Degree in Electrical Engineering from Stanford University.
Pamela's areas of expertise include blended course design and delivery, online course design and delivery, curriculum development, and effective use of video technology to enhance student learning. Her teaching subject areas include computer programming (Java, C++, C#, Visual Basic) and database programming (Oracle, MySQL). Pamela is also an instructor for Girls Who Code, and has led workshops with BlackGirlsCode.
Su Latt Phone
Su Latt Phone is a computer science student at College of San Mateo. She graduated from Horizon International School in Yangon, Myanmar. She is most interested in learning about web development, and plans to take more courses in that field. Su Latt is a member of the 2018 Honors Project at CSM. She is writing a technical research report about wireless security, and will present her findings at this meeting.
Lindsey Matheney
Lindsey has an AS from Shasta College and is graduating this spring with a BS in Computer Science from California State University, East Bay. She is a Senior Student Partner with Microsoft, hosting monthly technical workshops at CSUEB on web, mobile, and game development, IoT/Hardware, or Machine Learning. Since last June she has been working as a NERSC Software Engineering Intern at Berkeley Lab, responsible for creating temperature visualization and implementing machine learning algorithms. She grew up in the East Bay, and is a member of the ACM, SWE, and the Girl Scouts.
Diana Bennett
Diana Bennett is a digital media professor at College of San Mateo.
Preethi Ganeshan
Electronic Arts
Britt Eason
Facebook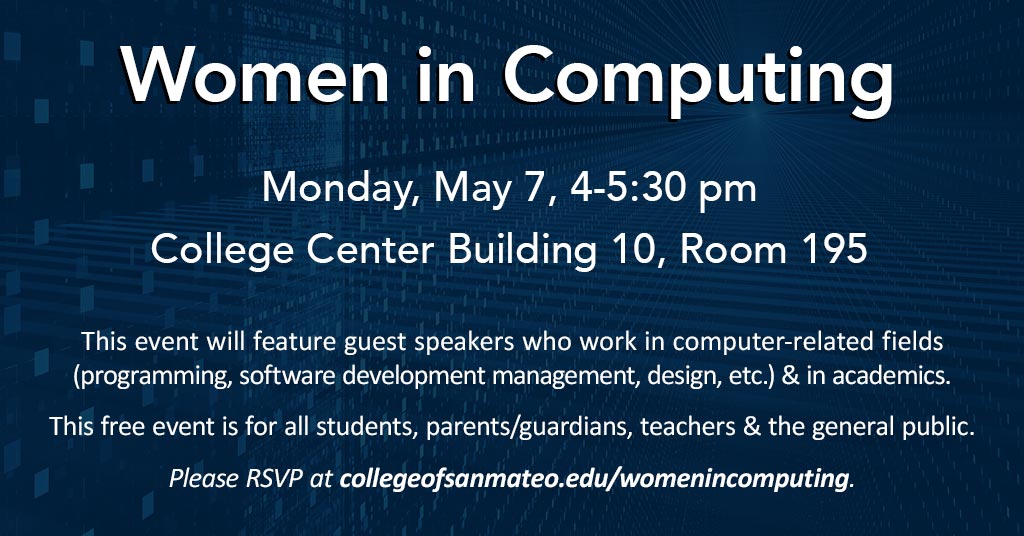 Cost:
Free
Categories: