So You Want to be a CPA!
How to become a CPA / Careers as a CPA
Mon Apr 23, 2018
1:00 pm - 2:30 pm
Please join us for this very special event on the CSM campus. Members of the Peninsula / Silicon Valley Chapter of CalCPA will help you start your career in accounting.
This event is free! All current and former CSM accounting students are encouraged to attend. This event is open to the public, so invite your classmates, friends, and family members to attend.
At this event you will:
Our distinguished panelists include:
Begin your accounting career with information from:
Register in advance
Registration is requested and can be completed online. Please register for this event so we know how much food to purchase. All walk-in guests are welcome.
If you are not a member of CalCPA you will create an account (no cost) and then complete the registration process.
Before you register, I encourage you to join CalCPA
Joining CalCPA is free and easy. Membership in CalCPA is free for undergraduates (select Student Membership) and free the first year for students with a bachelor's degree, $50 per year thereafter (select Candidate Membership). Non-members of CalCPA can join through the CalCPA website.
If you have any difficulty registering send an email to Stephanie Stewart and ask for help.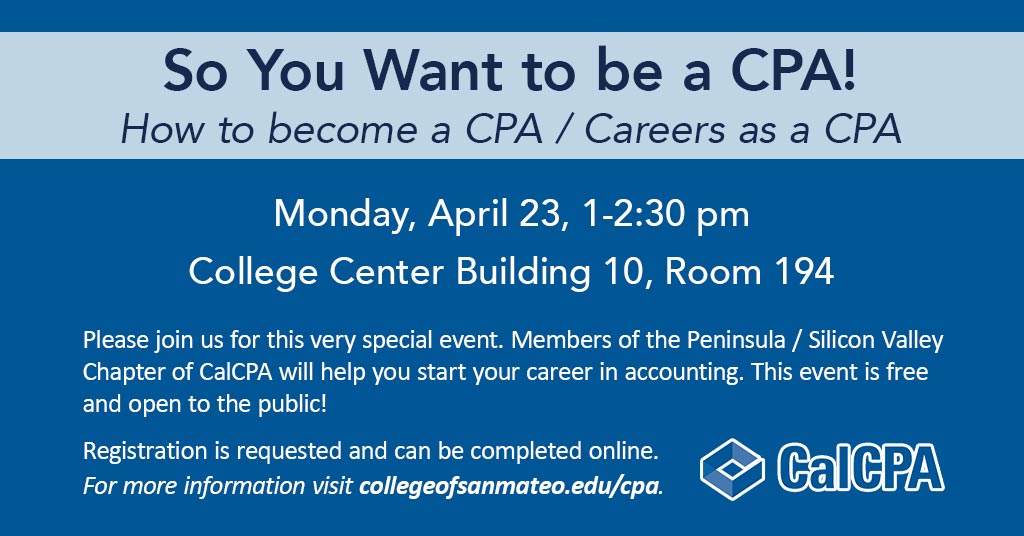 Cost:
Free
Categories:
CSM College Center Building 10, Room 194
1700 West Hillsdale Blvd.
San Mateo
,
CA
94022
United States
Browse Events at this Location
Event Contact Info
Bruce Maule
(650) 574-6663