ASCSM Spring 2018 General Election Candidate Filing Period
Monday, April 2 - Thursday, April 19
Wed Apr 04, 2018
All Day Event
Announcing the ASCSM Spring 2018 General Election to fill Executive Officer and Senator positions for the 2018-19 academic year.
Candidate Filing begins: Monday, April 2, 2018.
Mandatory Candidates Meeting: Thursday, April 19, 2018, at 2:30 pm in Building 12, Room 211
Polling dates: Tuesday, May 1, 2018, through Thursday, May 3, 2018.
Positions available are 1 President, 1 Vice President, 1 Finance Director, and 16 Senator positions.
All interested students are encouraged to apply. As a member of the ASCSM Senate, you will be part of the collaborative and participatory governance process at College of San Mateo, working with administrators, faculty, and classified staff to improve the College and its programs. You will also be responsible for managing a sizeable Associated Students budget to fund programs and services for the benefit of the students.
More information is available on the ASCSM Elections webpage.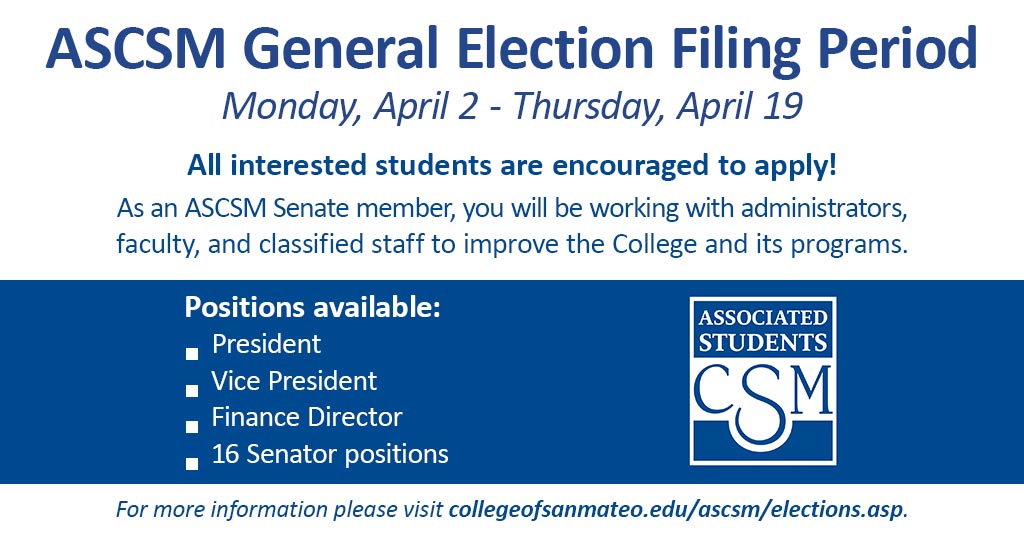 Categories: