CSM Lockdown Drill
Mon Apr 09, 2018
Starts at 9:30 am
The college will conduct a Lockdown Drill on Monday, April 9, 2018, at 9:30 AM and again in the evening at 7:30 PM. The drill itself only takes about 5-7 minutes. These practice drills help us prepare for real emergencies. In the event that there were an active shooter on campus, we'd rely on multiple modes of communicating information to the college community (i.e.,  EAS, AlertU, GWAMAIL email messages) and activate the technology we have (ACAM system).
Guidelines for Lockdown
When the alarm sounds:
If outside, move to the nearest building (hide)
Close the door(s) to your classroom or office; they should be locked
Turn out the lights
Silence cell phones and cover lights; do not use unless in contact with emergency personnel
Close and cover any/all windows (blinds, curtains, etc.) and stay away from them
Remain quiet and calm until notified by staff that the drill is over
Do not allow anyone to exit the clasroom until "all clear" is given by Public Safety or the administration
At the conclusion of the drill, you will be informed that you may resumer regular activities.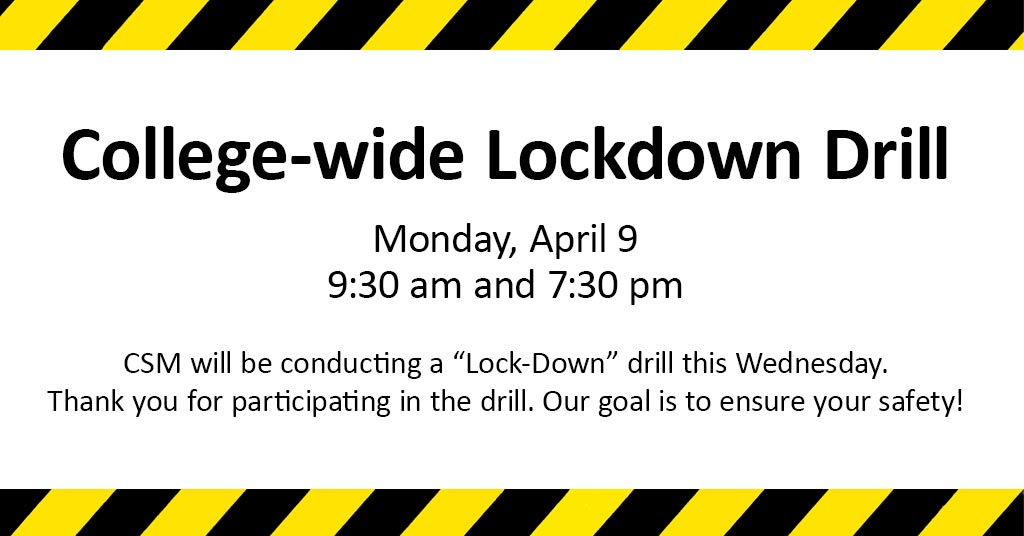 Categories:
College of San Mateo
1700 W Hillsdale Blvd, San Mateo, CA 94402
San Mateo
,
CA
94402
Browse Events at this Location
Event Contact Info
Robert Dean
(650) 574-6200