World Gala
A campus-wide celebration of global culture and diversity
Fri Apr 27, 2018
6:00 pm - 9:00 pm
The International Education Program is hosting the 3rd Annual World Gala on Friday, April 27th!
The event brought together 200+ students, faculty, staff, and family members to celebrate the diversity of our campus in the past two years.
What you'll experience at the World Gala:
Meet people from around the world!
Global Talent Showcase: featuring cultural performances and global fashion!
World Photo Contest: Choose your favorite photo from our gallery!
Enjoy appetizers, a light meal and dessert!
Dance party (Maru-A-Pula Marimba Band from Botswana & DJ from CSM!)
You won't want to miss this event!
** All CSM Students, Faculty and Staff, as well as their guests, are invited to attend! **
$10 Admission (Free for CSM students/staff/faculty). Students must bring their student ID.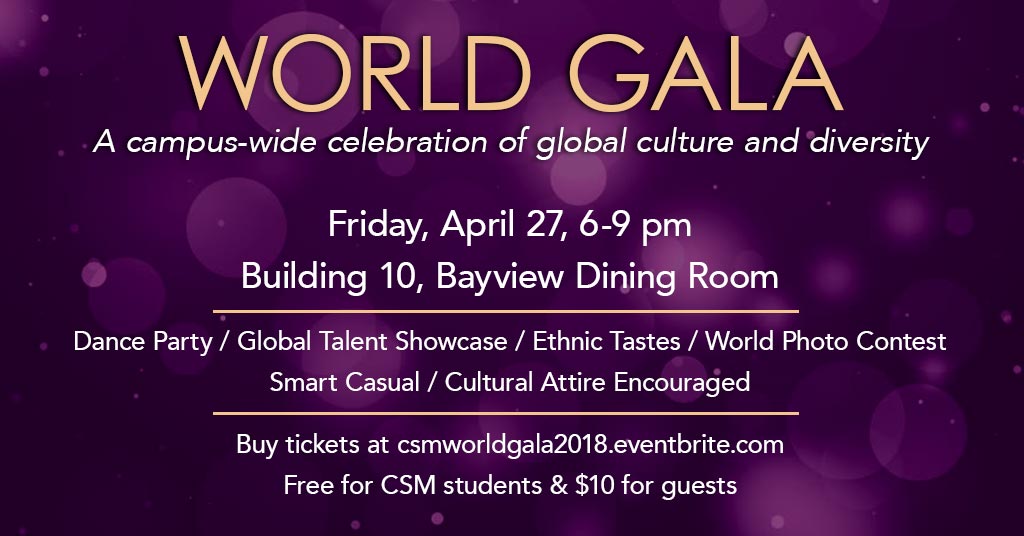 Cost:
$10 Admission (CSM students/ staff/ faculty free)
Categories:
CSM College Center Building 10, Bayview Dining Room
1700 W. Hillsdale Boulevard
San Mateo
,
CA
94402
US
Browse Events at this Location
Event Contact Info
Rosanne Leung
(650) 574-6525