Electrical Power Systems Orientation
Orientation for New Students
Sat Jun 16, 2018
10:00 am - 12:00 pm
New student orientation meeting for those interested in enrollment in the Electrical Power Systems & Instrumentation program at College of San Mateo.
A meeting designed to inform prospective students about the nature of the utility industry, employment opportunities in the industry, a description of the program at CSM, program qualifications, and program registration and enrollment.
In order to apply to the Electrical Power Systems and Instrumentation program it is necessary to attend an orientation meeting.
There are a limited number of spaces available for the orientation meeting, and it's necessary to reserve a seat in order to attend. Prospective students must attend only one orientation session.
Visit the Electrical Power Systems Orientation web page in order to reserve a space.
A variety of material will be handed out at the Orientation Meeting that will be useful to the students during their course of study.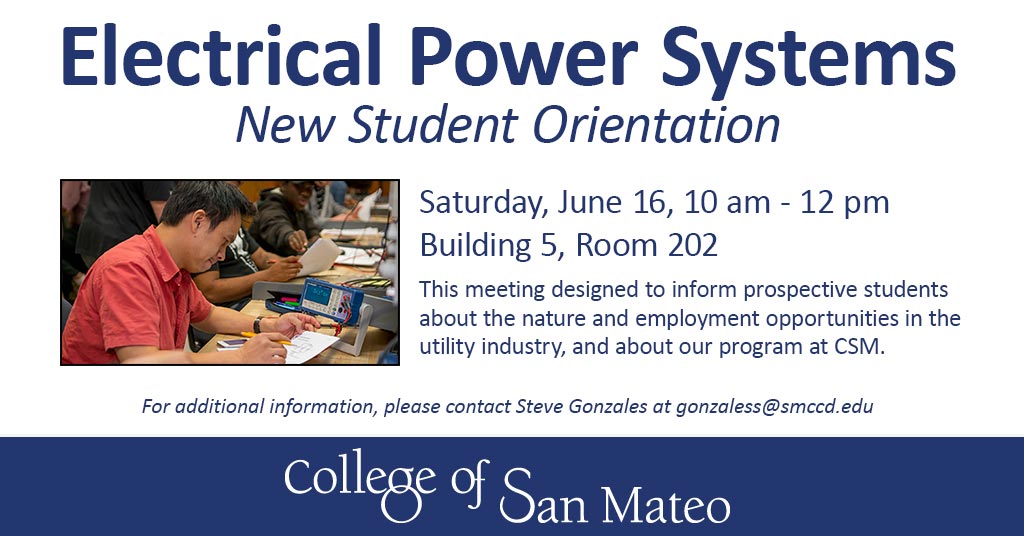 Categories: