CSM Transfer Day
Wed Sep 05, 2018
9:30 am - 1:30 pm
Meet with over 60 transfer representatives from UCs, CSUs, Private, Independent and Out-of-State Colleges and Universities talk about applications, admissions information, major programs, student services, housing and more!
Representatives from CSM's Transfer Services and Transfer Club will be available to share information on activities, events and workshops being offered throughout the semester as well as ways you can get involved as part of CSM's dynamic Transfer Club and make yourself a more competitive applicant in the admissions process to your desired university.
CSM Financial Aid and Scholarship Office will be available as well as the Associated Students of College of San Mateo (ASCSM) sharing information about all of CSM's campus clubs, student government and leadership opportunities.
Popcorn, candy and beverages will be available as well as give away items to help you succeed as a College of San Mateo Transfer student!
There will also be a UC and CSU Applications/Admissions workshops immediately following Transfer Day hosted by CSM Transfer Services and several UC and CSU transfer admissions representatives.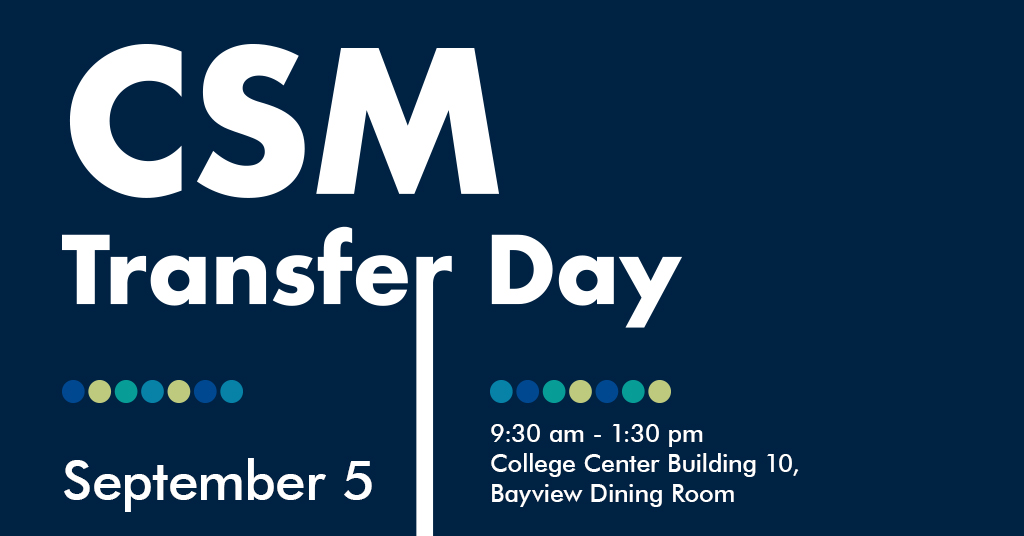 Categories: