Free Income Tax Preparation (VITA)
Saturdays, February 10 - April 7 (except February 17 & March 31)
Sat Apr 07, 2018
9:00 am - 12:30 pm
Taxes are hard. We make it easy. CSM Accounting students will preprare non-complex income tax returns for free for individuals/families with income less than $56,000. No appointment necessary.
Limited appointments can be made online.
Bring with you:
Copy of 2016 tax return
Photo ID for taxpayer and spouse - If married both spouses must come
Social Security or ITIN card for everyone claimed on the tax return
Medical insurance information including forms 1095-A, B, and/or C for everyone on the return
W-2s and all other income forms plus information on any cash income
Form 1098-T from all colleges if a student.  Tuition payment information and cost of books
Information for all itemized deductions and business expenses
Child care provider information
Savings and Checking account routing and account numbers for direct deposit
Save at least $50 of your refund and receive a free gift and be eligible to enter a drawing for a $100 gift card. Be sure to bring your savings and checking account information so you can have part of your refund deposited into savings and part into checking.
Income under $66,000? Want to prepare and e-file your IRS and CA returns from your own computer for free? Visit www.MyFreeTaxes.com for information and instructions.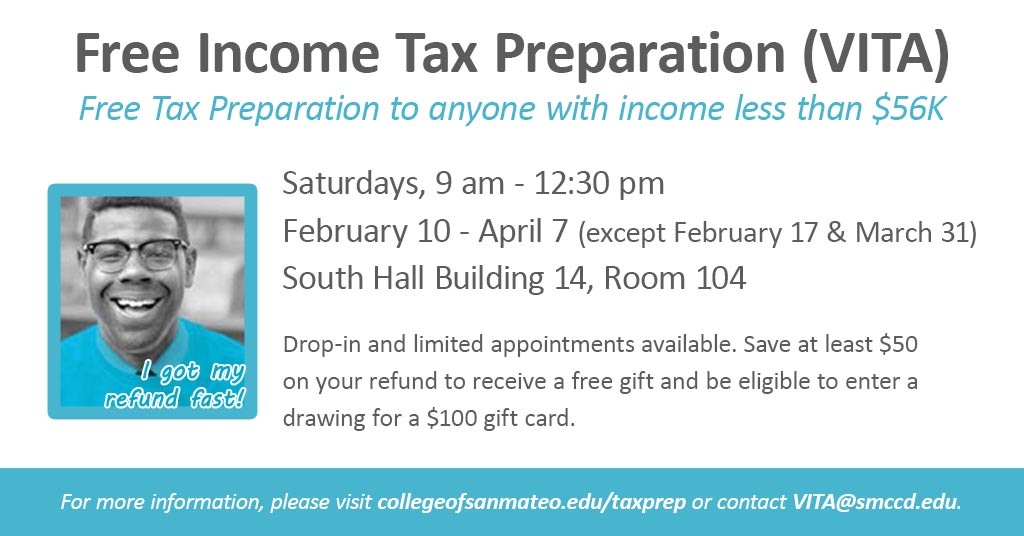 Cost:
Free
Categories: